Goats cheese au gratin with South Tyrolean smoked ham
The perfect blend of South Tyrol: goat's cheese and bacon. You should taste it!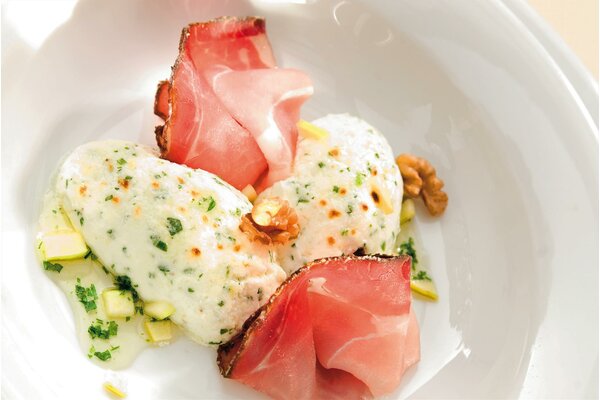 Basic information
Preparation time: 00:20 h.
Persons: 4
Ingredients
250 g goats cream cheese from South Tyrol
65 g mascarpone
2 tbsps Algund mountain cheese, grated
2 tbsps finely chopped herbs (parsley, chervil, chives)
20 rashers of South Tyrolean smoked ham
20 walnuts
1 Golden Delicious apple
3 tbsps South Tyrolean honey
salt
ground pepper
Preparation
Combine the goats cream cheese with the mascarpone, grated Algund mountain cheese, 1 tablespoon of herbs, salt and pepper. Mix well. Form dumplings using two tablespoons. Place these in a suitable, heatproof dish or plate and brown briefly in the oven at 200 °C (top heat) or in a salamander grill. Cut the apple into small cubes. Remove the browned cheese from the oven and arrange with the shelled walnuts and the smoked ham rashers. Before serving, sprinkle over the diced apple and drizzle a little honey on the goats cheese. Preparation time: 20 minutes.
A special tip:
Instead of apples, try prunes. Wine recommendation: South Tyrolean Meraner
Additional information
Source (German brochure): 30 Lieblingsgerichte aus Südtirol (Autonome Provinz Bozen)