A 20-minute drive into the hills above South Tyrol's resort town of Merano lies the boutique hotel MIRAMONTI, run by Carmen & Klaus Alber. Built on porphyry rock and surrounded by the Dolomites.

Between snow-capped mountains and emerald forests, Miramonti Boutique Hotel is in a magical setting. Spacious and cosy, contemporary and traditional, it's perfect for a snowy sojourn or summertime escape.

The use of rich wood and white colouring throughout lend Miramonti a sense of serenity. And with gables that resemble the peaks that surround it, this is a hotel that's connected with its natural surroundings. Unwind in the spa, with steam baths and saunas that seem carved from the rocks. Indulge in a spot of fine dining with a 360-degree Alpine vista. Or hire the hotel's classic Alfa Romeo and zip off into the countryside.

For those seeking total tranquillity, Miramonti is ideal. But with the Dolomites on the doorstep, there's plenty to entice adventurous types, too. Swim in mountain lakes, hike across peaks or ride through the forest on a Haflinger horse. Overlooking the spa town of Merano, you'll be perfectly placed to discover the relaxing thermal baths. And with snowy slopes all around, this is sublime ski country.

Garage
Pick-up service
Sauna
Swimming pool
Wi-Fi
Pets allowed
Garden
Restaurant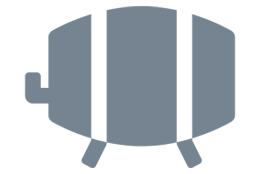 Wine cellar
Guided hikes